Gurdwaras In & Around Amritsar
5 Nights / 6 Days
Travel Destinations
Golden Temple, Gurdwara Baba Atal, Gurudwara Ramsar Sahib, Gurudwara Manji Sahib, Gurudwara Baba Deep Singh Ji (Sahida Sahib), Chheharta Sahib, San Sahib, Baba Budha Ji, Gurdwara Tarn Taran Sahib, Goindwal Sahib
Package Inclusions
5 Nights Accommodation on double sharing basis at hotels mentioned or similar
Daily Breakfast
Sightseeing as per the itinerary
Exclusive tour for Gurdwaras Darshan
Air-conditioned vehicle for Arrival / Departure transfers from and to Rly. Station/Airport
Package Exclusions
Personal expenses such as tips; telephone, laundry, medical bills and/or alcoholic beverages
Any other items not specified above
English Speaking Guide Extra
Government Service Tax
Itinerary
Day 01: Amritsar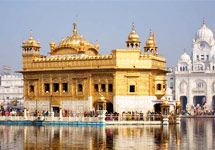 Arrive at Amritsar Railway Station. On arrival meet and greet by our representative who will take you to the hotel. Check in hotel. Relax for a while. After Lunch, proceed for Gurudwara Darshan start your tour with the blessings of The Golden Temple Amritsar India (Sri Harimandir Sahib Amritsar) is not only a central religious place of the Sikhs, but also a symbol of human brotherhood and equality. Everybody, irrespective of cast, creed or race can seek spiritual solace and religious fulfillment without any hindrance. It also represents the distinct identity, glory and heritage of the Sikhs. To pen-down the philosophy, ideology, the inner and outer beauty, as well as the historical legacy of Sri Harimandir Sahib is a momentous task. It is a matter of experience rather than of description.

As advised by Sri Guru Amar Dass Ji (3rd Sikh Guru), Sri Guru Ram Dass Ji (4th Sikh Guru) started the digging of Amrit Sarovar (Holy Tank) in 1577 A.D., which was later on brick-lined by Sri Guru Arjan Dev Ji (5th Sikh Guru) on December 15, 1588 and He also started the construction of Sri Harimandir Sahib. Sri Guru Granth Sahib (scripture of the Sikhs), after its compilation, was first installed at Sri Harimandir Sahib on August 16, 1604 A.D. A devout Sikh, Baba Budha Ji was appointed its first Head Priest.

The Golden Temple Amritsar India (Sri Harmandir Sahib Amritsar) has a unique Sikh architecture. Built at a level lower than the surrounding land level, The Gurudwara teaches the lesson of egalitarianism and humility. The four entrances of this holy shrine from all four directions signify that people belonging to every walk of life are equally welcome.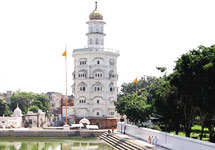 Then proceed to visit Gurdwara Baba Atal : Gurudwara Shri Atal Ji Sahib a 9 story octagonal tower, over 45 metres high, standing close to the Kaulsar pool about 200 metres southeast of the Harimandar, marks the spot where Baba Atal Rai, 9 year old son of Guru Hargobind, passed away on 9 Assu 1685 Bk/ 13 September 1628. See ATAL RAI, BABA. A simple memorial in honour of Baba Atal was raised on the site originally. The construction of the present edifice commenced after the Sikh misls had established their authority in the Punjab. The cornerstone was laid in 1770 and the first three storeys had been completed by 1784. The upper floors were raised by Maharaja Ranjit Singh during the 1820's. Sardar Desa Singh Majithia contributed the gold for gilding the dome at the top. The Guru Granth Sahib is seated in a small inner room on the ground floor. The first six storeys are larger than the upper ones which rise above the central sanctum. The doors on the ground floor, four in number, are decorated with embossed designs, on brass and silver sheets. Interior walls and the ceiling are covered with murals depicting scenes from the lives of Guru Nanak, his two sons and nine successors, Guru Gobind Singh's four sons and Baba Buddha.In olden days, the ground around Baba Atal Sahib (as the building is popularly called) were used as a cremation ground and the area was dotted with samadhs (memorial shrines) raised for eminent sardars (chiefs), saints (holy men), and warriors.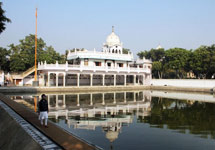 Then proceed to visit Gurudwara Kaulsar Sahib: This is the Sarovar next to the Gurdwara Mata Kaulan near Gurdwara Baba Atal in Amritsar, next to the main Darbar Sahib at Harmandar Sahib. It is named after a holy lady who was raised as a Muslim called Bibi Kaulan, the adopted daughter of the Qazi of Lahore. Gurdwara Santokhsar Sahib is an historical sikh shrine, situated at distance of 700 Meters from Harimandir Sahib. This is one of the five historical sarovers constructed by Guru Arjun Dev. When Guru Ram Das, had not yet ascended to the gaddi, he came here to find out a place for excavation of the holy tank on instructions from Guru Amar Das. When Guru Ram Das was getting the place dug, he found a Yogi, meditating.After sometime the Yogi opened his eyes and told Guru Ram Das that he had been meditating here for a long time, waiting for a Guru to give him salvation. He disclosed his name as Santakha and then breathed his last. The tank was then named as Santokhsar.Guru Arjan completed the unfinished work of excavation of tanks - Santokhsar and Amritsar. Baba Buddha was appointed to supervise the work of construction. Santokhsar was completed in 1587-89.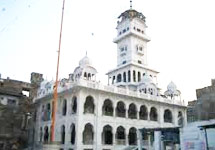 Then proceed to visit Gurdwara Guru Ke Mahal : as the name signifies marks the residential house of the Gurus. It is situated west of the Akal Takht across Guru ka Bazar street. Originally constructed as a modest hut by Guru Ram Das in 1573, it was enlarged and beautified by Guru Arjan Dev and Guru Hargobind. The old house has since been converted into a gurdwara with the Guru Granth Sahib seated in a large rectangular hall. Besides the daily services, a special divan and Guru ka Langar are held on every Sunday following the first of a Bikrami month. Return to the Hotel, Overnight at Amritsar Hotel.
Day 02: Amritsar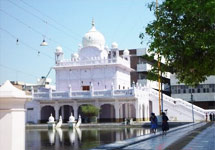 After breakfast, visit to Gurdwara Bibeksar Sarovar : Gurdwara Bibeksar Sahib is situated on the banks of the Bibeksar Sarovar. The sarovar was built in 1628 by Guru Hargobind Sahib, the 6th Sikh guru, and the present beautiful Gurudwara on the banks of this Sarovar was built by Maharaja Ranjit Singh. There is also a beautiful garden nearby Bibeksar Sahib Sarovar where the Guru Hargobind Sahib used to come for leisure walks. Situated near Chattiwind gate it also marks the place where Guru Hargobind Sahib used to tie his horse with Kareer Tree; this tree can still be seen. The Guru himself laid the foundation of the holy tank or Sarovar.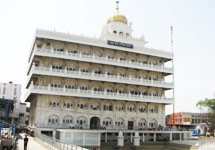 Then proceed to visit Gurdwara Ramsar Sarovar :Gurudwara Ramsar stands on the bank of the Ramsar sarovar, near Chativind Gate. The Ramsar Gurdwara is situated the smallest of the five Sarovars in holy city of Amritsar called Ramsar sarovar. It was built in 1855 at the site of the original shrine, where long before the present Gurdwara was constructed, Guru Arjun Dev the fifth Sikh Guru who was looking for a quiet spot away from the growing city of Amritsar. It was at this place where Guru Arjan Dev , the fifth Sikh Guru spent over a year (1603-04) to complete the holy Granth (Guru Granth Sahib) of Sikhs which covers over 1430 pages.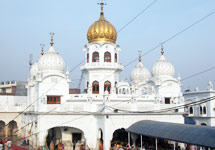 Then proceed to visit Gurudwara shaheed Baba Deep Singh : Gurudwara shaheed Baba Deep Singh ji is situated in the distt city Amritsar. in the year 1757 when baba deep singh ji got the news that taimurshah & jahan khan have shown disrespect for Shri Darbar sahib & also started filling the holy sarovar, even though baba ji was in old age he carried a 18 kg heavy khanda in his hand to free shri darbar sahib. He took pledge to teach a lesson to the cruel and started his journey for Shri Amritsar sahib. On hearing this, jahan khan had made thousands of his soldiers ready on the outskirts of the town near Gohalvadh village. There was a fierce battle. Baba ji was still far from the town when during his battle with jahan khan, he was beheaded. a singh standing close to baba ji when reminded baba ji of his pledge, such a miracle happened which had never happened in the world before. Baba ji held his head in his left hand & with his right hand he swayed the khanda with such a force that the enemies started running. Like this, fighting the fierce battle, baba ji reached Shri Amritsar and offered his head at Shri Harmandar sahib. antim sanskar of baba deep singh ji and other shaheed singhs was done here. Return to the Hotel, Overnight at Amritsar Hotel.
Day 03: Amritsar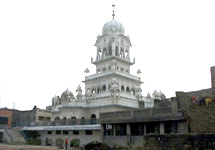 After Breakfast, visit Gurudwara Kila Shri Lohgarh Sahib, is situated in Distt City Amritsar. It is situated in the old Amritsar City inside Lohgarh Gate Area. After Martyrdom of Shri Guru Arjan Dev Ji at Lahore, Baba Budha ji announce Shri Hargobind Sahib Ji as sixth Guru. Shri Guru Hargobind Sahib Ji started raising the army of Sant Soldiers to fight against the cruelty. Guru Sahib raised here the Lohgarh Fort (Now Known as Gurudwara Shri Lohgarh Sahib).Later visit Gurdwara Bhai Saalo Toba Earlier in the times of the Gurus there was a famous Dharamsal of Bhai Saalo who was an ardent Bhagat (follower) of Guru Arjun Dev ji. A picture of the Thoba (a small pond with earthen floor), now tiled, appears below. Tobha Bhai Saalo Ji.The Sikh sangat which came from Lahore to visit Guru ji in Amritsar would pass through this route and stop over at the Dharamsal of Bhai Saalo. Guru Arjun Dev ji himself visited Bhai Salo's dharamsal many times, showing the affection which guru ji had for his gursikhs. Bhai Saalo breathed his last in Samat 1685 (Ch. 1628).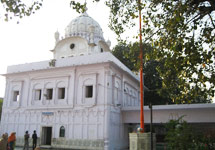 Then proceed to visit Gurdwara Pipli Sahib : Gurdwara Pipli Sahib about 1.5 km west of Amritsar railway station towards the Khalsa College, marks the spot where a large sangat, column of devotees, coming from Afghanistan and northwestern districts of the Punjab to take part in the excavation of the main Amritsar tank was welcomed by Guru Arjan, who came forward personally to receive them and who subsequently made it into a resting place for sarigats coming to Amritsar from that direction. The Gurdwara is connected by a 150metre link road to the main Sher Shah Suri Marg near Putlighar. It came into prominence again in 1923 when crowds of volunteers for the karseva or desilting operation of the Darbar Sahib tank first assembled here and then proceeded to the work site in a procession on 17 June 1923. The Gurdwara was reconstructed during the 1930's. Besides the daily services, a fair is held here on the occasion ofBasant Panchmi (January & February).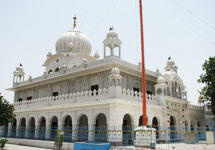 Then proceed to visit Gurudwara Kotha Sahib, Village Valla: This Gurdwara is situated at a distance of 6 Km East of Amritsar City along Mehta road in Village Vallah. The Ninth Sikh Guru, Shri Guru Tegh Bahadur Ji visited Village Vallah in 1664 and stayed for 17 Days at the place where Gurdwara Vallah Sahib is situated. A devotee of Guru Ji named Mai Haro Ji took Guru Ji to her house and served him with devotion. Gurdwara Kotha Sahib has been constructed at the place where house of Mata Mai Haro Ji once existed. Return to the Hotel, Overnight at Amritsar Hotel.
Day 04: Gurdwara Chheharta Sahib / San Sahib / Baba Budha Ji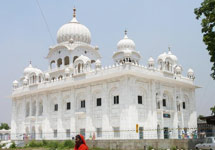 After Breakfast,visit Gurdwaras Chheharta Sahib: Gurudwara Shri Cheharta Sahib is situated in the Amritsar City near village Guru Ki Wadali. Guru ki Wadali is the birthplace of the Sixth Guru, Shri Guru Hargobind Sahib Ji, the son of Shri Guru Arjan Dev Ji. To celebrate the birth of his son, Guru Arjan Dev Ji constructed a big well at this place. This well had six Persian wheels to draw out the water and thus came to be known as Chheharta, the well with six wheels. This well helped in removing water scarcity in the region and enabled the greening of the fields. This well with persian wheels is still preserved here.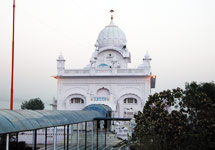 Then proceed to visit Gurudwara San Sahib: Gurudwara Shri San Sahib is situated in the Amritsar. Guru Amar Das Ji was named next GURU by Guru Angad Dev Ji.This is the place where Guru Amar Das, the third Sikh Guru, stayed after coming back from Goindwal, having been ordered to leave Goindwal by Datu the son of Guru Angad Dev Ji, who was jealous at not being named the Guru by his father.

In Basarke, the Guru shut himself up in a small hut which stood at this place, with an instruction on the door that nobody should open the door and if anybody tried to do it, neither would that person be a Sikh of his, nor would he be his guru. A group of disciples under the leadership of Baba Buddha Ji, one of the disciples of Guru Amar Das Ji, made a hole in the wall and pleaded with the guru to return. At last Guru Amar Das Ji returned with the Sikhs. The hole in the wall is still preserved today inside the Gurudwara Sahib.

Then proceed to visit Gurdwara Baba Budha Ji: Baba Buddha ji spent much of his life here. Guru Arjan Dev also visited this place at some stage. Also known as Gurudwara Bir Baba Buddha this is situated in the revenue limits of the village of Thatta, 20 km south of Amritsar. The shrine honours and commemorates Baba Buddha (1506 - 1631), the venerable Sikh of the time of Guru Nanak who lived long enough to anoint five succeeding Gurus.

He spent many years looking after the "bir", literally a reserved forest used for cattle grazing, said to have been offered to Guru Arjan by Chaudhari Langah of Patti out of his private lands. According to Gurbilas Chhevin Patshahi, it was here on 21 Assu 1651 Bk/20 September 1594, that Mata Ganga the wife of Guru Arjan, received blessings for an illustrious son (the future Guru Har Gobind, Nanak VI) from Baba Buddha.Return to the Hotel, Overnight at Amritsar Hotel.
Day 05: Tarn Taran Sahib / Khadoor Sahib / Goindwal Sahib (50 Kms.)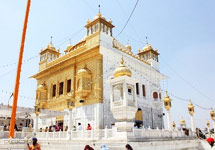 After breakfast, proceed for full day Gurdwara Yatra around Amritsar starting from Gurdwara Shri visit Gurdwara Tarn Taran Sahib: Gurdwara Sri Tarn Taran Sahib is a gurdwara established by the fifth guru, Guru Arjan Dev, in the city of Tarn Taran Sahib, Punjab, India. It has the distinction of having the largest Sarovar (water pond) of all the Gurdwaras. It is famous for the monthly gathering of pilgrims on the day of Amavas (a no-moon night).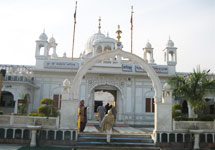 Then proceed to visit Gurudwara Shri Khadoor Sahib: (15 Kms from Tarn Taran) Sri Khadur Sahib was the family home of second Guru Sri Guru Angad Dev Ji. The Guru settled here with his wife Mata Khivi and raised their three children here. Sri Guru Angad Dev Ji established his religious center here and spent the rest of his life at Khadur Sahib. Here Shri Guru Angad Dev appointed Guru Amar Das as his successor and the third Guru. A grand Gurudwara Khaddi Sahib has been constructed here, in memory of Guru Amar Das.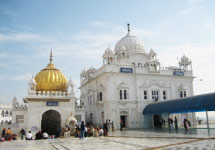 Then proceed to visit Shri Goindwal Sahib: (10 Kms from Khadur Sahib) visit Gurdwara Shri Baoli Sahib- This was the first centre of Sikhism and was established by Sri Guru Amar Das Ji. The Hindus went on pilgrimage to Hardwar and Benaras but the Sikhs needed a place of their own. Understanding this, Sri Guru Amar Das Ji purchased the land and personally helped in the construction of the Gurdwara and Baoli (well) with 84 steps leading down to it. Return to the Hotel, Overnight at Amritsar Hotel.
Day 06:Departure
After Breakfast, Later Transfer to the railway Station/Airport to board train for onward Journey.